Stacked Bar Chart
A stacked bar chart is a type of graph that displays multiple categories of data as bars stacked on top of each other. Each bar segment represents a portion of the whole, and the height of the bar represents the total of all segments. Use stacked bar chart for a holistic view of data breakdown.
Transcript
‍
Creating a Stacked Bar Chart widget
Under any App, go to reports
Click + Report
Name your report
Select the list you want to get the data from.
From the Chart Type, select Stacked Bar Chart
Then continue to configure it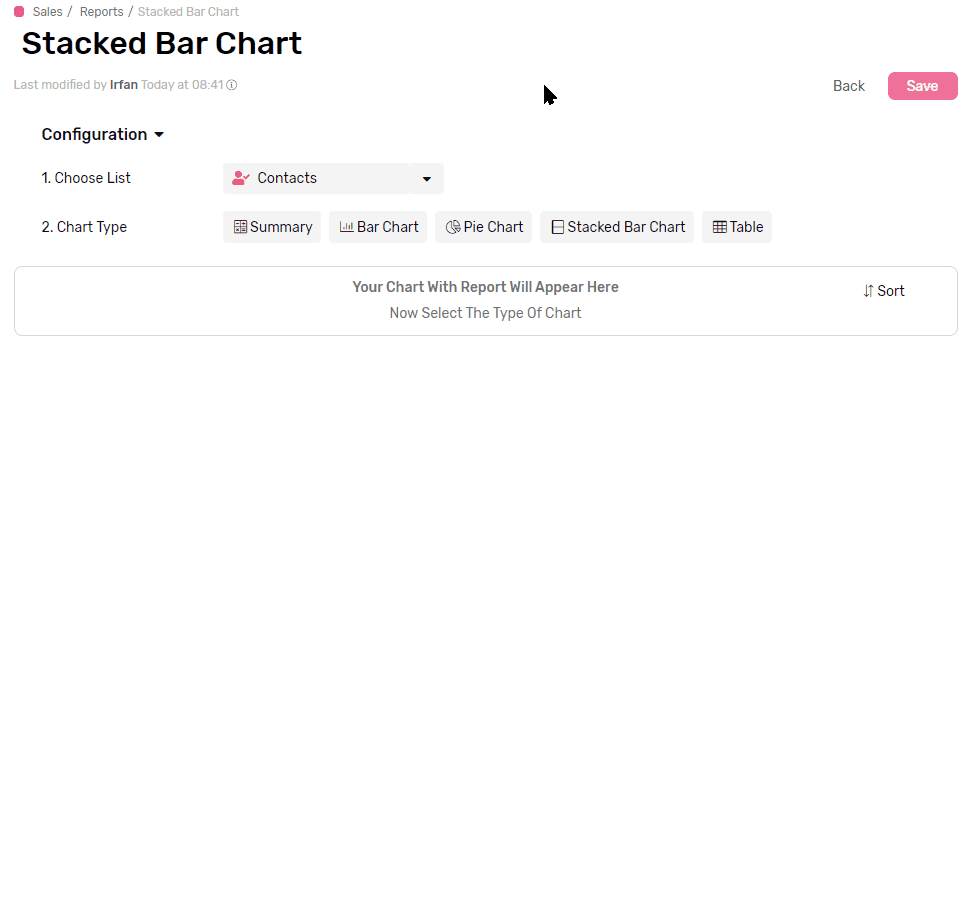 Functions
Applying a mathematical function to all values in each group, e.g. get a total of all values, applying a filter later in the configuration will limit the function to work only on the values from records that match the filter.
Sum will calculate the total of all values in each group.
Average will calculate the mathematical average of all values in each group.
Max will retrieve the Maximum value in each group
Min will retrieve the Minimum value in each group
Count will count the records which have a value in the selected field

Count is the only function that accepts all types of fields.
Value
This is where you select the field that you want the function to run on.
Grouping
Main Group (Bars)
This is the mandatory grouping field, that you can't create a stacked Bar chart without.
Select a field to group the data by, each group will be represented by a bar.
If you group by a date field you can also set the frequency

Frequency can be Daily, Weekly, Monthly, or Yearly
Each bar will represent a time frame determined by the frequency (e.g. if you select weekly, each bar will represent a week.)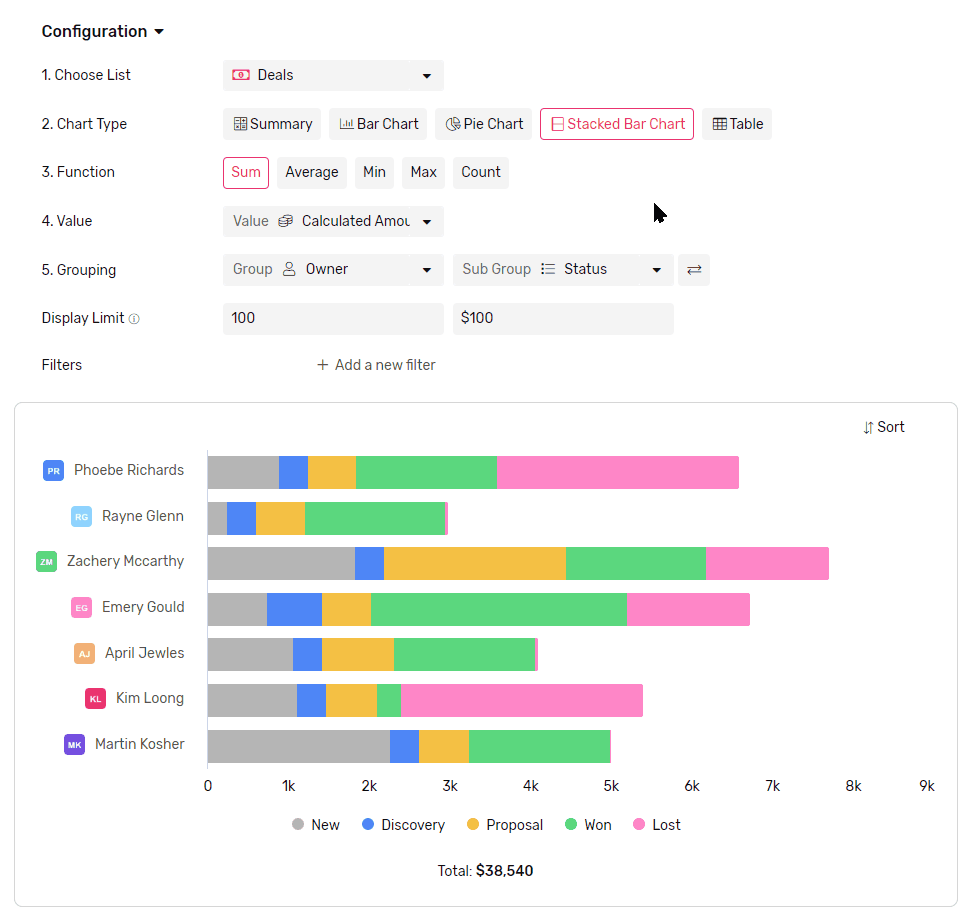 Secondary Group (Stack)
If you select a secondary group, they will show up as Stacks to the stacked Bar
Each stack will represent a subset of data from the main group represented by the bar.
Switch grouping
You can easily switch Stacks and Bars by clicking the switch button right next to them.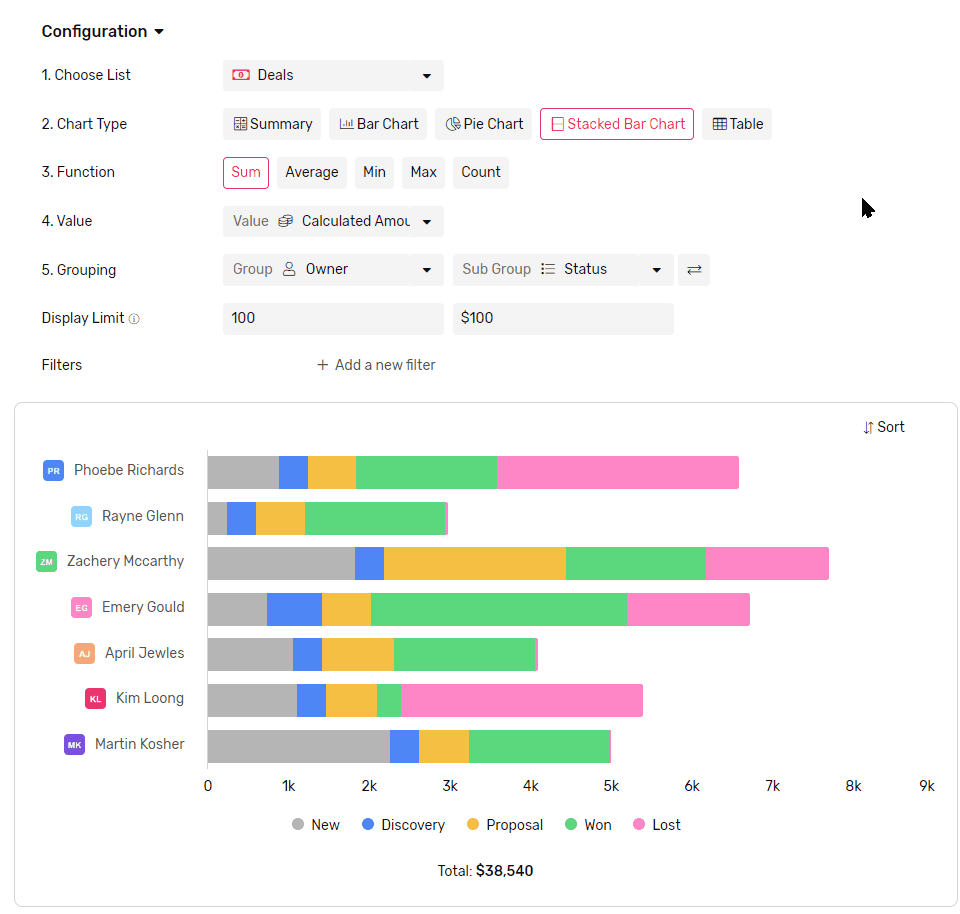 Display Limit
Limit how many bars are displayed in the chart.
The maximum number of bars you can see in the chart at a time is 100.
If there are more groups than the limit the rest of the groups will be all gathered under one bar called others.
To better control which bars are showing you can use a mix of Filters and Sorting.
The same applies to Stacks as well, with the sub-grouping limit.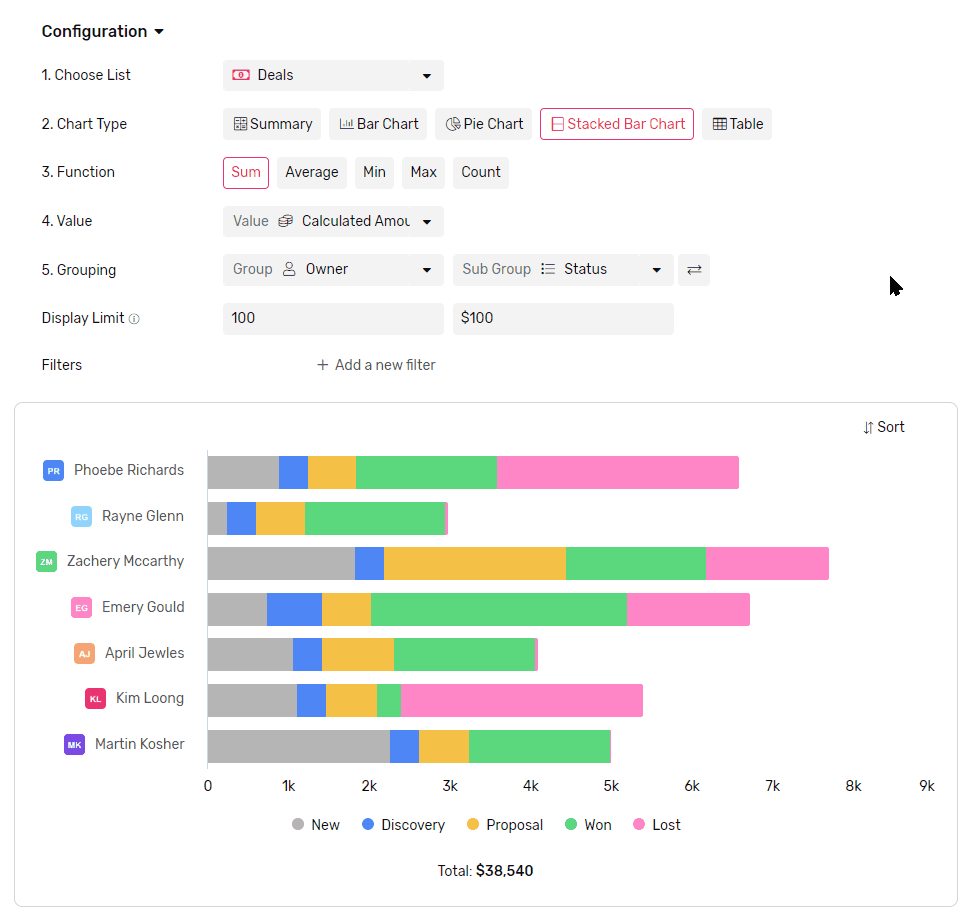 Sorting
You can sort your bars either by

Value, which will sort based on comparing the value represented in the bars.
Legend, which will sort based on bars labels.
The same applies to stacks